The landscape of this area inspired Arthur Ransome for the setting of his book "Great Northern" (the story of children protecting eggs of the great northern diver). The Castle of the Gaels was based on the lodge where he stayed in 1945 and 1946 whilst researching Great Northern. Great Northern was the last of his 12 books in the Swallows and Amazons series.

Arthur Ransome also fished here and took particular fascination with a famous pool known as the Gorge. Here he experimented with techniques and watched the salmon and their reactions to his fly.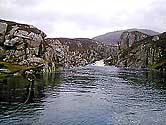 Many generations of salmon fishermen have done the same and will do for many years to come. He also wrote in "Mainly about fishing" his theory as to why salmon may take a lure even though they do not feed while in freshwater. He wrote that they are merely "chewing gum". An observation he made whilst sitting on the bank of the famous Gorge pool where he watched fish with great interest.
The Uig area is famous for more than it's fishing, celebrity visitors and smoked salmon. It has an interesting history including being the place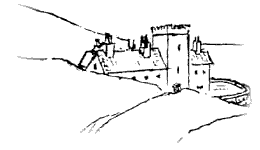 where one of the oldest chess sets in the world was discovered. Believed to be more than 700 years old, it was on the beach in front of the lodge that they were found
.... read more